Electronics and Informatics, Mathematics and Physics
Program Contents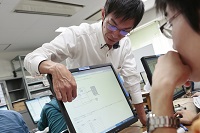 Division of Electronics and Informatics covers information and communication technology areas and it consists of two courses: electronics course and informatics course. Each course has three major areas.
(1) Electronics course is hardware and physics oriented. Our target is to contribute electronics, communication and computer as well as power electronics areas. We provide students education of fundamental and advanced electronics, electronic devices, semiconductor, electromagnetic wave theory, communication, power & energy electronics, control, measurement, computer hardware & software, circuits & systems and signal processing algorithm as well as their related research activities.
(2) Informatics course is software and mathematics oriented. Our target is to contribute computer software & hardware, multi-media, communication and network areas. We provide students education of fundamental and advanced electronics, electronic devices, semiconductor, electromagnetic wave, communication, power & energy electronics, control, measurement, computer hardware & software, circuit & systems and signal processing algorithm as Well as their related research activities.
Faculty Members and Fields of Specialization
Faculty Members
Fields of Specialization
professor
Kazuyuki Amano
Computational complexity, theory of algorithms, machine learning
professor
Masaaki Amou
Transcendental number theory, Diophantine approximations
Professor
You Yin
Materials and devices for brain-like chip and information storage, nanofabrication, nanometrology
professor
Naoya Ohta
Image processing, computer vision, and pattern recognition
Professor
Hiromasa Oku
Dynamic image control, High-speed image processing, High-speed optical devices
professor
Tomihiro Kamiya
High energy ion beam, microbeam, radiation detector, ion beam therapy
Professor
Tamihiro Gotoh
Material science for optical devices
professor
Haruo Kobayashi
Analog and digital integrated circuit design and signal processing algorithms
professor
Hiroshi Sakurai
Magnetic nano device, measurement using x-rays
professor
Yoichi Seki
Data mining, statistical learning theory and applied data analysis
professor
Hayato Sone
Nanometer measurement and fabrication, nanoelectronic devices, high-sensitive biosensor for medical use, crystal growth
professor
Manabu Takahashi
Theoretical study on electronic properties and magnetism in transition metal compounds
professor
Kazumi Tanuma
Elasticity equations, inverse problems
professor
Shin-ichi Nakano
Graph algorithm, and Information visualization
professor
Tatsuya Nagao
Theory of strongly correlated electron system
professor
Seiji Hashimoto
Motion control, system identification, vibration control, precision control, renewable energy
professor
Osamu Hanaizumi
Devices for optical communication, Microphotonics
Professor
Takashi Miwa
Applied measurement for electromagnetic and ultrasonic wave
professor
Kuniyuki Motojima
Radio wave propagation, Wireless measurement, Electromagnetic wave simulation
Professor
Yasushi Yuminaka
Multiple-valued logic and new-paradigm analog/digital integrated circuits
professor
Shuji Watanabe
Integral transforms of Fourier type, commutation relations in quantum mechanics and their applications
Associate Professor
Toru Araki
Graph theory, Graph algorithm, Combinatorial optimization
Associate Professor
Tadashi Ito
Computed tomography and its applications, inverse problems in measurement
Associate Professor
Takeshi Ohtsuka
Geometric surface evolution equation, Singular limit of reaction diffusion equation
Associate Professor
Syun-ji Ozaki
The optical properties and electronic energy-band structures of nanoatructured semiconductors and ternary compound semiconductors
Associate Professor
Wataru Kada
Quantum Beam Science, Radiation detection and dosimetry, Quantum Materials and it's application to Life Science
Associate Professor
Tsuyoshi Kato
Bioinformatics, machine learning, and statistical analysis
Associate Professor
Ken-ichi Kawanishi
Information and communication systems, performance evaluation, queueing theory
Associate Professor
Nobuyuki Kurita
Magnetic bearing, maglev motor, automatic control engineering, power electronics
Associate Professor
Morihiko Sato
Production of pulsed power generation system with MOSFETs and underwater pulsed electric discharge
Associate Professor
Yutaka Shikano
Theoretical Physics, Quantum Metrology, Data Analysis
Associate Professor
Kosuke Suzuki
Synchrotron X-ray characterization, Functional materials, Electronic structure analysis, Non-destructive measurement techniques
Associate Professor
Masako Suzuki
X-ray spectroscopy, Surface/Interface science, Multif
Associate Professor
Nobukazu Takai
CMOS analog integrated circuit design and its automated design algorithm
Associate Professor
Toshimitsu Takaesu
Spectral Analysis and Scattering Theory for Relativistic Quantum Field Models
Associate Professor
Toshiki Takahashi
Physics of compact torus plasmas for thermonuclear fusion reactors
Associate Professor
Yoshitaka Takahashi
Optoelectronics and quantum electronics
Associate Professor
Hirofumi Nagoshi
Analytic number theory, value-distribution of arithmetic functions
Associate Professor
Makoto Hamana
foundations of programming languages, functional programming, term rewriting
Associate Professor
Toshiya Hikihara
low-dimensional strongly correlated electron systems, quantum spin systems, numerical calculation
Associate Professor
Ken-etsu Fujita
Logic of programming, programming languages
Associate Professor
Shin-ichi Furusawa
Physics of solid state ionics, nanoionics, ionic device
Associate Professor
Kenta Miura
Light-emitting materials and devices, Photoelectric devices
Associate Professor
Takahumi Miyazaki
Exponential Diophantine equation, Diophantine analysis
Associate Professor
Yoshifumi Morita
Theoretical study on low dimensional quantum systems and superconductors
Visiting Professor
Koji Asami
Measuring and testing techniques for RF, analog and mixed-signal LSIs.
Visiting Professor
Masahiro Ishida
Testing methodologies for LSI circuits
Visiting Professor
Teruo Kohashi
Magnetic metrology, Spin polarized scanning electron microscopy
Visiting Professor
Kunio Koseki
Power Electronics
Visiting Professor
Kazuo Saito
Advanced electronic engineering
Visiting Professor
Naoya Sasaki
Molecule dynamic simulation, Nanometer dynamics of lubrication and wearing
Visiting Professor
Takahiro Miki
Analog integrated circuit design
Visiting Professor
Yasunori Tanaka
Power Semiconductor Device, Semiconductor Process Technology
Visiting
Associate Professor
Takesi Mitani
Crystal Growth, Optical Spectroscopy of Solid
Researchers
Industrial application of AI-based control technology
For the next ten years, new technologies such as AI, big data, and IoT evolve and spread in a wide range of fields. Industry structure will also be greatly affected by these technologies. We are developing AI technology-based energy harvesting system, process control system and so on. For example, the self-powered system based on vibration power generation combined with the deep learning technique is applied to drive a wireless sensor node for factory diagnosis. In the process control system, the temperature is precisely controlled by using a learning algorithm based on the neural network.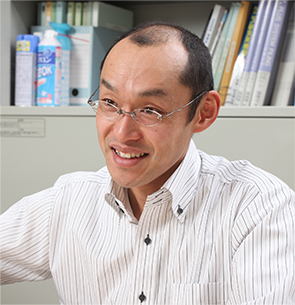 Professor
Seiji Hashimoto
Producing next generation media technology
Rapid progress of high-speed image processing and image projection technologies is increasing demand for, high-speed, adaptive image acquisition and projection. Our laboratory proposes a new media technology named Dynamic Image Control (DIC) that refers to a technical concept of dynamic and adaptive control of image acquisition and/or projection depending on the scene. DIC requires optimization of all components of imaging and projection systems, including imagers, optics, and illumination. Thus, both devices and system/application are studied in this laboratory. Envisaged application fields of DIC are image industries such as film and advertising, medicine and biology requiring microscopic measurement, factory automation, and human-machine interfaces requiring comprehensible images.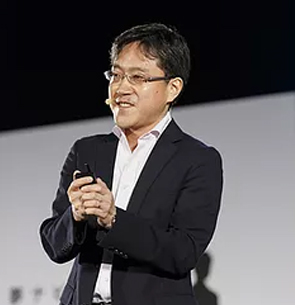 Professor
Hiromasa oku
Student's voice
My current research is about electro-magnetic interference (EMI) reduction techniques in switching power converters. EMI problem is a big issue for electronic appliances; if they do not meet EMI regulations, they cannot be in the commercial market. Then the EMI noise spectrum spread technique of suppressing the peak levels at the fundamental frequency is widely used. However, it spreads the EMI noise also in the radio receiver signal band, which disturbs the radio receiver erformance. Based on this background, my research target is set to reduce the EMI noise diffusion at the specific frequencies (radio receiver bands) when the EMI spectrum spread technique is employed. I have come up with new ideas to solve this problem, verified them with simulations and experiments, and presented their contents in international conferences.
Yifei Sun