Message from the Dean
Welcome to the School of Science and Technology of Gunma University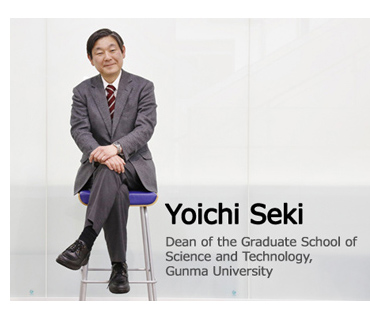 The School of Science and Technology celebrated its centenary in 2015. It was originally established as a private school by the citizens of Kiryu City in 1896. In those days, Kiryu City was a center of the textile industry, then a key industry of Japan. In 1915, the school was reestablished by the government as the Kiryu National Technical College of Textile Science to teach the latest textile science technologies. After the end of World War II, the college was rebuilt as a school of the Gunma University.
Over the following years, the school has developed advanced fields as a pathfinder of change in the world's key industries. Lately, interdisciplinary research projects have been developed in collaboration with other schools of the university. Examples include the "Adoption of NextGen Transportation Systems" project targeting automated driving for cars in the local area, the "Gunma University Medical Innovation" project for promoting collaboration between medical science and technology, and the "Element Innovation" project, which includes material science, machinery, electronics, and even medical science.
We now have departments in four fields: Chemistry and Chemical Biology, Mechanical Science and Technology, Environmental Engineering Science, and Electronics and Informatics. Through the above projects, the four departments provide our students with educational programs offering a balance between basic science and advanced technology in interdisciplinary fields. Furthermore, the school offers the Global Frontier Course educational program to nurture global leaders at the forefront of each domain.
In this rich, natural environment and warm, friendly town, we nurture engineers who will build a fertile future society and researchers who will make scientific discoveries that will amaze the world. Advanced academic programs and vibrant research projects await you.
Yoichi Seki
Dean of Graduate School of Science and Technology