Procedures for Entering Japan
Students admitted to Gunma University as an "international Student (Ryugakusei)" should have a Certificate of Eligibility as a student. If a foreign student does not possess this status, services to international students, including scholarship applications, will not be available.
Procedures for Entering Japan
All future international students need to hold a valid passport issued by their home countries and a corresponding Student Visa issued by the Japanese Embassy or Consulate. In order to receive a Student Visa, you must first obtain a Certificate of Admission from Gunma University and then a Certificate of Eligibility from the Tokyo Immigration Office. Once you decide to enter Gunma University, We recommend that you apply as soon as possible for a Certificate of Eligibility through Gunma University. It takes one to two months. Should you have any questions regarding the application procedures, please contact the supervisor.
Flow Chart of Immigration and Admission Procedures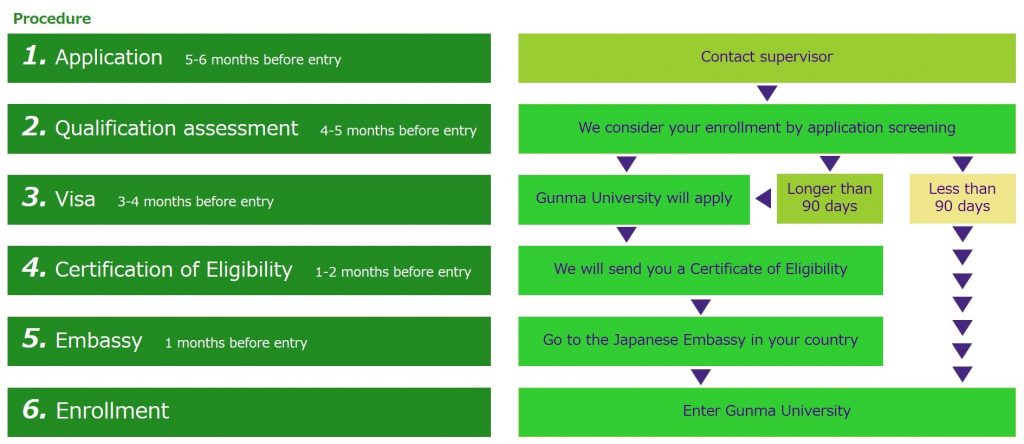 See if you need a visa for entering Japan. The visa applications are different according to countries or regions. Please refer to the website of the Ministry of Foreign Affairs of Japan. Also contact the Japanese diplomatic mission in the country of your nationality for more details regarding required documentation. Engaging in paid activities in Japan is not allowed.
References

VISA procedures
Temporary Visitor's Visa (Ministry of Foreign Affairs of Japan)
Countries/Regions with visa exemption agreements (Ministry of Foreign Affairs of Japan)
Regional affairs (Ministry of Foreign Affairs of Japan)
Procedures for Foreign Nationals Currently Residing in Japan
After completing the procedures for admission to Gunma University, you need to apply for a "Change of Residence Status" at the local immigration office. This is only necessary if your current status is not "Student." If you will be moving to or near the campus from another city or town, you should go to your new town or city office to apply for resident's registration and for a change in your National Health Insurance status.